Camp Stoves in a Disaster
Cooking in an Emergency
I wrote last week about having an earthquake expert as a guest speaker at our recent neighborhood meeting. Part of his presentation was a map showing the major earthquake faults in Southern California. Naturally, we traced the famous San Andreas Fault – and saw how our water supply lines cross it 32 times coming from Northern California!
When the "big one" hits, we are going to be without water and likely without power (Both electric and gas lines also crisscross the fault.) for weeks.
No power? That makes cooking tough.
I pulled out our emergency stoves. We have two of them, collected over the years.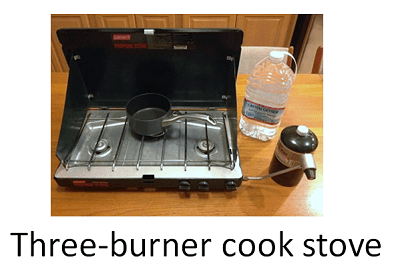 The first is the trusty Coleman stove. We have a three-burner which makes it really convenient. The photo shows how my small pot fits on the stove; with those three burners, we can use a large frying pan or even a griddle. Sometimes adjusting the flame takes some careful effort.
One, two or three burners?
Our second stove is a one-burner model that we purchased across the street at an Asian market. It is smaller than the three-burner (Note the pot and the gallon of water that appear in each photo for comparison.) and it weighs half as much, making it easier to pack and carry.
Still, with just one burner, I'm juggling pots and having to be creative with one-dish meals. The gas canister doesn't last as long, either.
With either stove, we can accomplish the essentials: boil water for coffee, cook ramen noodles with dried vegetables (from the same Asian market), and have enough water left over for some washing up.
Which model stove is best?
When you really start cooking outdoors, of course, you have to consider more than size or number of burners. Consider these features:
How stable is the stove? Will it slip, tilt, bend?
How much fuel do I need to store? (Test to measure how fast you go through the canister.) Does the stove have an automatic ignition, or do I need matches?
What kinds/size pots can I use? Do I need special utensils? What about a hot pad?
Do I have bowls and silverware? (Remember the spork – combo spoon and fork, extremely convenient.)
How about cooking oil? Are non-stick pans really non-stick?
Check out our Emergency Plan Guide store to see some typical stoves and learn more about comparing cooking equipment.
The most important part is the reminder to TEST YOUR STOVE before the emergency hits! Of course, remember that camping stoves need to be used outdoors and not inside.
Don't wait until the next earthquake, or the next big electrical outage to get your cooking arranged, because by then stores may be closed or empty. How about buying a camp stove as an early Father's Day or Mother's Day present?
Let me know your experience with your OWN stove/s and we'll share it here.
Virginia
your Emergency Plan Guide team
Don't miss a single Advisory.
Thank you for subscribing.