Pet Emergency Kit — Don't Put It Off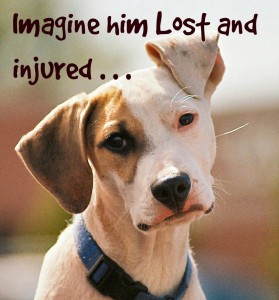 As a pet owner, are you offended at this question:
"Do you consider your pet a part of the family?"
What about this question:
"Are you one of the 28% of pet owners who plan to buy their pet a gift at Christmas?"
I thought so!
With a gift for your pet in mind (!), don't overlook the same thoughtful step you have taken for your family members – a survival kit.
There's only one way to protect your pet.
In an emergency, you will surely want your pet near, safe and comfortable. The only way to manage that is to have a complete kit, ready to put into play at a moment's notice if you must evacuate.
Even if you are sheltering in place at home, your pet's routine will be interrupted. So having what you need on hand for your pet will allow you to focus on safety and security for the whole family.
Seven basics for your pet's emergency kit.
Just like a personal survival kit for your 8-year-old daughter or your 81-year-old mother, your pet's kit needs to be customized.  Still, there are basics that you can start assembling now if you haven't already.
In fact, any or all of these items make great Christmas presents!
1.The container or kit itself.
Crates and hard-sided carriers work well if you have plenty of space, but a soft-sided carrier that folds flat may be the most practical for an emergency kit. Get the right size for your pet and the right weight for you, since you will have to carry the container with pet and with the other supplies that are part of it.
Look for sturdy handles and a shoulder strap or backpack straps. You may even want a container with wheels or that's attached to a rolling cart. Here's one from Amazon:
Snoozer Roll Around 4-in-1 Pet Carrier, Red & Black, Medium
(I saw it at more than one price, so be sure to shop. As always, if you buy through our link, we may receive a commission from Amazon. The price you pay is the same, no matter what.)
2.Food and water supplies.
Water is the most important, and the heaviest item to manage. As you plan for your family's needs of 1 gallon a day/person, add extra for your pet. You may be able to store a couple of quarts in the carrier itself, along with a collapsible water dish.
As for food, canned wet food is convenient and doesn't attract any bugs. BUT, be sure you have a can opener and be sure your pet likes the brand! You don't want an animal with digestive problems on your hands. You could use the same collapsible dish mentioned above for food, or add a second dish.
3.First aid kit.
Every pet should have a first aid kit, again, customized for that pet (medicines, clippers, veterinary instructions) and for your part of the country (ticks, burrs, heat). Get the smallest kit that works, then add personal items. If you don't already have what you need packed up in a bag, here are a couple of simple pre-built kits to start with.  Reviews of the second kit were particularly positive.
Essential Pet First Aid Kit
Pet First Aid Kit, Large – 50 Pieces
4.Safety items.
In an emergency, your pet needs a collar or harness and SHORT leash so you can protect it. Your dog may need a muzzle. Store these items in the carrier, too.
If you have to walk your pet, it would make sense to have a hands-free leash, since you are likely to be carrying a flashlight, a tool, or a child or holding hand somebody's hand. You can get a simple hands-free leash for as little as $5. Here's a more sophisticated and useful one you could use every day:
Outward Hound Kyjen 23003 Hands Free Hipster Dog Leash Storage Accessory 5ft Leash Included, Blue
5.Sanitary items.
IF YOU HAVE TRAINED YOUR PET IN ADVANCE to wear diapers, or to use pee pads, having a supply in your container makes sense. Obviously you'll also want some of your usual poop bags.
6.Comfort items.
A familiar blanket and/or towel is probably one of the most valuable items to have in your container. You can wrap your pet for carrying, your pet can use it to lie on, or you can throw it over the container for privacy.
Having a source of light might make you both feel more comfortable; consider a couple of light sticks or LED Glow Stick like this one that has several "light modes" (steady, blink) as well as a whistle:
Life Gear Multimode 4N1 Glow Stick, Flashlight, Safety Flasher, Emergency Whistle, RED
A favorite toy also makes sense – but don't get a fetch toy, or a tugging toy, or a toy that squeaks!  Here's one that you might try out – according to the manufacturer it has a "protein taste and vanilla smell" and is likely to keep your pet engaged for a long time.
Petmate Dogzilla Rubber Dumbbell Shaped Dog Toy, Small
7.Pet ID
As you probably know, not every shelter allows pets, so you may be separated. Attach a waterproof envelope to the container that clearly identifies its occupant – with photo, name of owner, emergency contact information, history of shots, etc.  Keep copies of all this information for yourself, too.
Disclaimer: Joe and I don't currently have a pet, though we've each owned several. We interviewed many enthusiastic pet owners for items in this blog post and have shopped in local pet stores for ideas and current brands.
We have also discovered in our community that more than half of our senior neighbors have pets. And nationally, while families with children are the most likely to have pets, more younger couples are getting pets, too, as they postpone having children. Who do you know with a pet? Be sure they have this information.
In an emergency, out of control lost animals will create heartbreak and danger for all.
Protect your pets now by putting together emergency kits for each of them.
Virginia
Your Emergency Plan Guide Team
Don't miss a single Advisory.
Thank you for subscribing.
Tags: collapsible water dish, Emergency kit, pet, pet carrier, pet first aid kit