"In an emergency, I'd like to find myself next to someone who is prepared and ready to help, rather than someone who is scared and useless."
That sentiment is what inspired this book!
We know that our neighbors will be the true first responders – and the more they know, the better for us!
So after taking the CERT training, we knew we wanted to get more neighbors involved, and we looked for some guidance.
We searched and searched . . . and found nothing for "ordinary citizens!"
So we decided to start a neighborhood emergency preparedness group on our own.
It hasn't been an easy road. Some of our "brilliant ideas" didn't work. We had to go back, again and again, to improve or add steps that didn't get done right the first time. Neighbors came and went, so the group expanded and contracted.
Now, fourteen years on, all that effort has been worth it! Our group continues with a strong core membership. Together we have handled some real emergencies and won recognition from the mayor and the police department.
In the hopes of making it easier for others build their own emergency response teams, we have pulled together a handbook with just about everything we've learned.
Actually, we have completed three handbooks. Each has around 50 pages.
One book is for residents of multi-family apartment buildings and condominium complexes.

One is for residents in a community of mobile or manufactured homes.

One book is for people living in a single family home neighborhood.
Each community is different, with potentially different regulations and restrictions and, of course a different "character." But the steps to building a group are similar and many of the resources work for every sort of community. Some of the materials in the Appendix are shown below.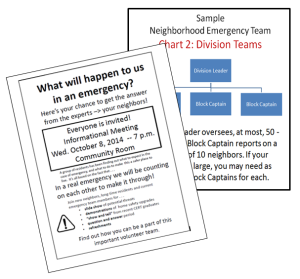 And here's a sample Table of Contents. Each Guidebook starts out with information specific to your kind of neighborhood — the particular risks you may face, and your particular strengths or advantages.
Thoroughout, while some material is similar for each neighborhood group, we have included specific legal advice, comments about insurance, working with the property owner, etc.
Unique challenges and opportunities for single family neighborhoods
Part One: Your Personal Safety
Part Two: Counting on Your Neighbors
Part Three: Building Your Neighborhood Plan

Command Structure in Detail
Communications, The Critical Component
The Written Contingency Plan

Appendix

Basic list of Emergency Supplies
Sample invitation to a Neighborhood Meeting
Sample Radio Communication Plan
Legal Considerations
If you'd like to increase the readiness of your community, pick one of these books and get started!
Survival Planning for
Apartment Dwellers
In an apartment complex, you have a built-in source of great group members. At the same time, you need to consider the role of the property owner and property manager as you build your team. We pay particular attention to getting their buy-in.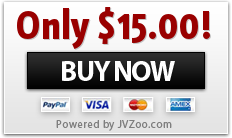 Survival Planning for
Manufactured Home Communities
Many mobile or manufactured home parks are 55+ gated communities, with on-site managers. This gives you the advantage of having neighbors at home, but probably more people with special needs. And don't overlook survival planning for pets!