Business Owner – Are You Personally Liable?
The Prudent Man Rule is well established in the investment world. It requires that an advisor make decisions that a "prudent" person would make, a prudent person being defined as someone in similar circumstances, with similar training and similar responsibilities.
Does the Prudent Man rule extend to business owners?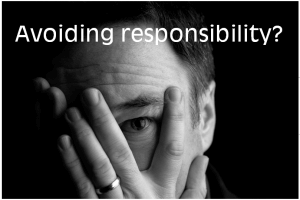 Picture this scenario. An owner never gets around to putting together a business continuation plan, all the while knowing that having a plan is common practice for other owners in the neighborhood or in the industry.
Disaster strikes.
Could that owner be personally liable if proper planning might have prevented or mitigated that disaster?
It's possible!
Certainly, there have been cases after disasters when corporate heads were sued . . .
by employees or their survivors
by stockholders for not properly protecting their investment
by customers for data loss
by suppliers for supply chain disruption or breach of contract
by neighbors because a business didn't protect them from "spillover."
We're not lawyers.
But by now, if you don't have a Business Continuity Plan for your business, you must realize you may be running the additional risk associated with the Prudent Man rule.
Travelers Institute Findings
We recently attended a luncheon meeting sponsored by the Travelers Institute. Among the topics: business continuation planning. It was presented as a necessity and also as a competitive advantage.
Some of the highlights from the presentation:
Business is getting riskier.
Over half the businesses in a 2014 Hart Research survey commissioned by Travelers felt that risks were increasing for business. Only 14% thought they were decreasing.
Are you with the majority on this?
Businesses fail to deal with risk.
In the survey, something like 65% of small businesses claim they have an emergency exit plan, but just 30% have created a Business Continuity or Business Recovery Plan or even consulted with an insurance agency about insurance to protect against loss.
Again, are you with the majority – you AGREE times are riskier but aren't doing anything to reduce risk?
An emergency exit plan may save lives, but, the lack of Business Continuity and/or Disaster Recovery Plan means that there may not be a company to come back to. In that case, everybody loses . . . employees and their families, owners, investors, creditors and customers.
Yet no-cost or low-cost mitigation services are readily available.
Many cities, in conjunction with FEMA and other local organizations, offer the Community Emergency Response Team (CERT) training to residents, businesses and employees of businesses to help save lives and property in a disaster. Most classes are free and some actually issue equipment to aid in light search & rescue, triage, etc.
Other resources are also readily available nearly everywhere.
Taking advantage of these services should be the logical first step for the "prudent" business owner.
Procrastination can be costly.
While we have no accurate data on why small businesses are so lax about taking even these inexpensive actions to protect their businesses, we suspect it is because they are simply procrastinating. There have been too many disasters in the news for anyone to pretend they "didn't know about the importance of emergency preparedness."
If you own or work for a small business that does not have either a Business Continuity or a Disaster Recovery Plan, you would be well advised to take the initiative. Check the guide we've put together; it's three steps to a simple plan. Take a look at the online resources listed above. Check with your city to see if CERT training is available.
These may not cover everything the business needs, but you will have made a solid start. Going back to the Prudent Man rule, it says that a person making decisions for others can't simply rely on what he or she knows, but will be held accountable for what he SHOULD know.
Don't get caught on this one.
Joe Krueger
Your Emergency Plan Guide Team
Don't miss a single Advisory.
Thank you for subscribing.
Tags: business continuation plan, Business Recovery Plan, Disaster Recovery Plan, emergency preparedness, Prudent Man Rule