Two weeks ago I sent out a survey to my various Emergency Plan Guide subscribers.
Only two questions resulted in any real intelligence.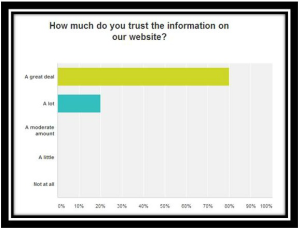 The first interesting question made me really pleased. The image shows the question and the result: 100% of the respondents trusted the information on the site "a great deal" or "a lot."
The second interesting question was the very last one, where we asked people to let us know what they want more of in upcoming Advisories. Here the answers were totally diverse.
Some people wanted pure survival information.
Others were looking for ideas to help them organize CERT groups. (One CERT group was in a medical facility!)
So we fall back on our original assumptions regarding our audience, assumptions that have been upheld via comments we've received. And to continue with the questions . . .
Do you fit into one of these categories?
Preppers – Make preparations to get through an emergency or a disaster (caused by weather, societal turmoil, etc.) by relying on their own stockpiled supplies and skills.
Survivalists – Prepare to survive a long-term, total breakdown of society, probably as a result of anarchy. Survivalists endorse and practice traditional wilderness survival skills including use of weapons, traps, emergency shelter, etc.
Homesteaders – Look to the land to be self-sufficient as a regular lifestyle. Homesteaders grow crops and preserve them; they may also craft their own materials and tools.
Professional Emergency Responders and Planners – Formally trained to respond to and manage emergencies of different types and intensities. These include First Responders (firefighters, police, emergency personnel), leaders within city or government agencies, and staff of the Big Daddy of them all, the Federal Emergency Management Association (since 2003, part of Homeland Security).
Where do we fit?
Over the years Joe and I have absorbed good info from all these groups!  (Actually, our interest in preparedness started when we were children. My parents were pioneers in Alaska in the 30s and I inherited their attitudes along with their stories. And Joe survived on urban streets by himself as a child – yet another skill set.)
At Emergency Plan Guide, we have ended up finding a niche that doesn't seem to get a lot of sustained attention.
We are Team Builders.
We tend to like – and want to trust — people. We enjoy being part of a bigger team. And nearly every news story we hear makes it clear that in the case of a widespread emergency, it's the people physically closest to you who will make the difference to your survival!
Yes, your "immediate survival team" will be made up of your neighbors or your co-workers.
We can't count on strangers to have any particular skills or understanding. But we can and should count on neighbors and co-workers to have (1) basic knowledge, (2) some practiced responses and (3) a readiness to pitch in.
So let me ask you for a bit more follow-up.  Can you reply to this Advisory and let us know which group from those described above fits you the best? Or do you fit into another category altogether?
We look forward to hearing from you!
Joe Krueger and Virginia Nicols
Your Emergency Plan Guide Team
If you get this in an email, you can contact us here to let us know more about who you are and what you want.